Bad Breath? Try a Tongue Scraper
posted: May 22, 2012.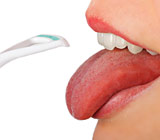 Bad breath can have a serious impact on a person's social and business life. Americans are well aware of this fact, and spend nearly $3 billion each year on gums, mints, and mouth rinses in order to make their breath "minty fresh."
Bad breath or halitosis (from the Latin halitus, meaning exhalation, and the Greek osis, meaning a condition or disease-causing process) can originate from a number of causes; but oral bacteria are the most common source. About 600 types of bacteria grow in the average mouth. If bacteria act on materials that have been trapped in your mouth, many of them produce unpleasant odors.
Most often, bad breath starts on the back of the tongue, the largest place in the mouth for a build-up of bacteria. In this area bacteria can flourish on remnants of food, dead skin cells, and post-nasal drip. As they grow and multiply these bacteria produce chemical products called volatile sulfur compounds or VSCs. These compounds emit smells of decay reminiscent of rotten eggs.
In addition to bacteria on the tongue, halitosis may come from periodontal (gum) disease, tooth decay, or other dental problems. If you have halitosis, it is thus important to have a dental examination and assessment, and to treat any such problems that are found. Treating bacteria on the tongue without treating underlying periodontal disease will only temporarily cure bad breath.
The next step is to take control of tongue bacteria by brushing or scraping your tongue, with possible addition of antiseptic mouth rinses. People who have bad breath have more coating on their tongues than those who don't, and regularly cleaning the surface of the tongue has been demonstrated to reduce bad breath.
Implements have been designed specifically for the purpose of scraping or brushing the surface of the tongue. Using a toothbrush is not as effective because it is designed to clean the hard tooth surface, rather than the spongy surface of the tongue. To keep your breath fresh, you must regularly remove the coating from your tongue. This means acquiring a tongue scraper or brush and using it every day.
Contact us today to schedule an appointment to discuss your questions about tongue cleaning and bad breath. You can also learn more by reading the Dear Doctor magazine articles "Tongue Scraping" and "Bad Breath."
Tags: bad breath,&nbsp tongue scraper