Better Dental Hygiene Means a Healthier Heart
posted: Jul. 25, 2012.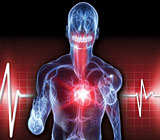 Did you know that studies have shown a relationship between gum disease and heart disease?
The common link is inflammation. This means that if you reduce inflammation caused by gum disease (periodontal disease), you also reduce your risk for heart attacks and strokes. The methods we stress for good dental hygiene — consistent effective brushing and flossing, regular professional cleanings by a hygienist, and dental treatment when needed — are also important for the maintenance of a healthy cardiovascular system (from cardio, meaning heart, and vascular, meaning blood vessels).
Here's how it works. Dental plaque is a film of bacteria that settles on your teeth near the gum line every day. When you brush and floss, you remove as much of this bacterial film, or biofilm, as you can. Bacteria that are not removed multiply and produce acid products that begin to dissolve the enamel of your teeth. They also irritate your gum tissues.
Your immune system tries to remove the bacteria and their byproducts through inflammation, your body's way of attacking substances that shouldn't be there (such as bacteria). However, long-term inflammation can be harmful to your own tissues as well. Inflammation in your gums, a symptom of periodontal disease, can destroy gum tissue, bone and the ligaments that hold your teeth in place.
Ongoing inflammation can also increase your risk for heart disease and stroke. Bacterial byproducts of periodontal inflammation have been shown to cause the liver to manufacture a protein called CRP (C-reactive protein) that spreads the inflammation to the arteries, where it promotes formation of blood clots.
Of course, other factors are also related to an increased incidence of cardiovascular disease. These include smoking, diabetes, obesity, high blood pressure, and physical inactivity. Family history and depression can also influence gum disease and heart disease.
Diet is another factor. You have probably heard of "good" cholesterol (HDL) and "bad" cholesterol (LDL). The bad one, low-density lipoprotein or LDL, is found in animal fats. It can cause an accumulation of fat breakdown products (also called plaque, but a different substance from dental plaque) inside your arteries. The arteries become narrow, so that they can be easily blocked, resulting in heart attacks and strokes. Studies have shown that inflammation of the lining of the blood vessels accelerates this effect.
If tests show that you have high levels of LDL, your doctor may advise you to modify your diet and take specific medication to reduce arterial plaque. You will also be advised to make lifestyle changes to reduce your risk factors. Lowering your weight, getting more exercise, and stopping smoking can have a positive effect on your heart health — and so can improving your dental hygiene to combat periodontal disease.
Contact us today to schedule an appointment to discuss your questions about the relationship between gum disease and heart disease. You can also learn more by reading the Dear Doctor magazine article "The Link Between Heart & Gum Diseases."
Tags: periodontal disease,&nbsp heart disease