Can You Whiten Traumatized Teeth?
posted: Jun. 15, 2012.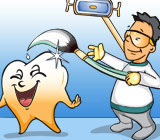 If you are pleased with your smile except for that one front tooth that appears darker, then we have good news for you. Often a tooth appears darker as a result of trauma that may have occurred years ago. Your tooth may need root canal treatment or may have already had root canal treatment in the past. Regardless, you can whiten this tooth via a process called internal bleaching. And as the name suggests, the tooth can be bleached from the inside out. Here's a brief summary of how this entire process works:
Performing an x-ray exam: The first step is to take a radiograph (x-ray) to make sure that your root canal filling is intact adequately sealing the root canal and the surrounding bone is healthy.
Making an access hole: To apply the bleaching agent, a small hole will need to be made in the back of your tooth to apply the bleach. However, before doing that, the area must be thoroughly cleaned and irrigated.
Sealing above the root canal filling: This step is critical to prevent the bleach from leaking into the root canal space.
Applying the bleach: To obtain the whitening needed, it typically requires between one and four office visits for additional bleaching.
Applying a permanent restoration: Once your tooth has lightened to the desired color, a permanent filling will be placed over the small hole to seal your tooth's dentin. This is then covered with tooth-colored composite resin (filling material) so that the access hole is undetectable to the naked eye.
To learn more about this procedure and see amazing before and after images, continue reading the Dear Doctor article, "Whitening Traumatized Teeth." Or, you can contact us to discuss your questions or to schedule an appointment.
Tags: root canal