Clear Orthodontic Aligners, An Alternative To Braces For Adults
posted: Apr. 12, 2012.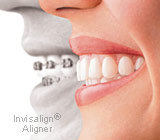 If you are insecure about your misaligned crooked teeth, then you may be a perfect candidate for clear orthodontic aligners. This system is an alternative to traditional braces that uses a sequence of individual, clear, removable "trays" that fit over your teeth to gradually straighten them. Each tray is completely clear and covers all the teeth thus making it virtually invisible. Each tray is designed to slightly move the teeth until the teeth are in proper alignment. Typically, each tray must be worn for 20 hours a day for 2 weeks before progressing to the next tray in the sequence with each tray moving you closer towards your goal — perfectly aligned teeth.
However, clear orthodontic aligners are not for everyone. If you are interested and wonder if they can benefit you, contact us so that we can schedule an appointment for a thorough evaluation to assess your specific situation. Below, we have briefly outlined some situations when they will and will not work.
Clear orthodontic aligners work if...
You have mild to moderate crowding or spacing issues between teeth
Back teeth fit together properly
They may not be the right choice if...
You have moderate to severe crowding or spacing issues between teeth
When your bite does not align properly (for example, if you have a large over-, under-, or cross-bite)
When your teeth are "rotated" way out of position; such misaligned teeth will require special or complex techniques to rotate them back into position, or to pull them down into place or to fill the space left after pulling a tooth to resolve excessive crowding of teeth
Want to learn more?
Contact us today to discuss your questions or to schedule an appointment. You can also learn more about this topic by reading the article "Clear Orthodontic Aligners."
Tags: invisalign