Gum Disease may Affect Other Conditions in the Body - and Vise Versa
posted: Aug. 01, 2014.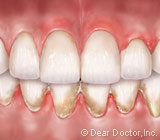 As we continue to learn about the delicate balance between the body's various organ systems, we're discovering what affects one part of the body may affect other parts. This is particularly true for patients with periodontal (gum) disease and one or more other systemic diseases — researchers have identified a number of possible links between them.
Here's a snapshot of three such diseases and how patients who suffer from them and gum disease may be affected.
Diabetes. Both diabetes (caused by the body's inability to produce insulin that regulates blood sugar levels) and gum disease can trigger chronic tissue inflammation. Because of inflammation, diabetics are more prone to infectious diseases like gum disease. From the other perspective, uncontrolled gum disease and its resultant inflammation can worsen blood sugar levels. Some research has shown treatments that reduce oral tissue inflammation in diabetics with gum disease may also help bring their blood sugar levels into normal range.
Cardiovascular Disease. Diseases of the heart and blood vessels can eventually lead to heart attacks and strokes, the world's leading causes of death. There's evidence that some types of bacteria that cause gum disease may also contribute to higher risks for cardiovascular disease. Reducing the levels of these bacteria in the mouth through periodontal treatment can help lower the risk of cardiovascular disease.
Osteoporosis. Like gum disease, osteoporosis causes acute bone loss, although from a hormonal imbalance rather than as the result of bacterial infection. The major link between the two conditions, though, relates to their treatments. On the positive side, the antibiotic doxycycline has displayed positive effects on both conditions when administered in low doses. On the other hand, a class of drugs known as bisphosphonates used to treat osteoporosis may limit bone regeneration after tooth extraction and could have implications for using dental implants to replace extracted teeth.
There's still more research needed on the relationship between gum disease and these and other systemic conditions. There's widespread optimism, though, that such research could yield new treatment approaches and procedures that bring better healing to the mouth as well as the rest of the body.
If you would like more information on the connection between oral and general health, please contact us or schedule an appointment for a consultation. You can also learn more about this topic by reading the Dear Doctor magazine article "Good Oral Health Leads to Better Health Overall."
Tags: gum disease,&nbsp periodontal disease