How Do You Know If You're Brushing And Flossing Your Teeth Correctly?
posted: Jun. 26, 2013.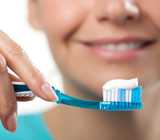 You've probably brushed your teeth every day since early childhood when your parents handed you your first toothbrush. But do you really know if you're doing it effectively and removing disease causing bacterial plaque or biofilm? Let's take a look at the basics of tooth brushing.
What is the goal of brushing and flossing your teeth? While it is true that brushing your teeth freshens your breath and removes stains from the surfaces of your teeth, the principal goal of tooth brushing is to remove dental bacterial plaque. This biofilm grows in the nooks and crannies of your teeth, and especially at the gum line — regardless of what you eat or drink. If left on your teeth, this bacterial film can cause gingivitis (inflammation of your gums). It can progress to periodontal disease, affecting the supporting bone of your teeth and even result in tooth loss. This means that flossing should also be an important part of your daily dental hygiene routine to remove plaque from the protected areas between your teeth.
Can you actually brush too much? More is not always better and can be damaging. We advise you to use a soft brush and to brush gently. It does not take force to remove plaque, and using a toothbrush too vigorously can damage your gums and cause them to recede (shrink away from your teeth), causing sensitivity and tooth wear. It takes between 12 and 24 hours for plaque to form on your teeth, so you don't need to brush more than twice a day and floss once a day.
How do you know when you've done a good job? A good test is that your teeth should feel like you've just had a professional cleaning. Your tongue is a great evaluator — just feel for smoothness at the gum line.
Is a powered toothbrush better than a manual one? An evidence-based study comparing all the research available found little difference between power and manual toothbrushes. The conclusion was that some powered toothbrushes with a rotation-oscillation action achieve a modest reduction in plaque and gingivitis compared to manual toothbrushes. But as we say, "it's not the brush, it's the hand that holds it."
Come to our office for a demonstration. Any brush, whether electric or hand-powered, requires professional demonstration and training so that you know how to remove plaque correctly. Bring your toothbrush with you on your next visit to our office, so we can see your brushing technique and make sure you are doing it correctly for the most efficient plaque removal. And don't be embarrassed — nobody really knows how to brush effectively until they're shown!
Contact us today to schedule an appointment or to discuss your questions about tooth brushing and oral hygiene. You can also learn more by reading the Dear Doctor magazine article
"Manual vs Powered Toothbrushes."
Tags: brushing,&nbsp flossing