Overcome Oral Cancer With Screenings and Lifestyle Changes
posted: Aug. 29, 2014.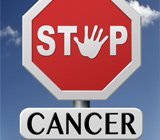 Baseball legend Babe Ruth, President Ulysses S. Grant and George Harrison of the Beatles — these three notable people from different backgrounds and historical eras have a sad commonality — they all died from oral cancer. They are a reminder that regardless of one's wealth or fame, no one is immune from oral cancer and its deadly effects.
Like other cancers, oral cancer is characterized by abnormal cell growth capable of spreading into nearby tissue or other parts of the body. Although oral cancer accounts for less than 3% of all occurring cancers, it's among the most deadly: only 58% of oral cancer patients survive five years after treatment. This is mostly due to the difficulty of detecting oral cancer in its early stages; in fact, 30% of oral cancers have already spread (metastasized) when they're finally diagnosed.
Early detection through careful monitoring is the best strategy for defeating oral cancer. If you have a predisposing factor like a family history of oral cancer, then regular screenings during dental checkups are a must. During an exam we may be able to detect abnormalities (like unusual white spots on the gums or jaws) that may signal a cancer in a pre-cancerous or early stage. You also should be on the lookout for a persistent sore throat or hoarseness, lingering mouth pain, a painless lump in the mouth or on the neck, or ear pain on only one side.
There are also conditions or behaviors that may increase your risk for oral cancer, like using tobacco (both smoke and smokeless) or consuming alcohol. If you use tobacco you should consider quitting it altogether; you should consider cutting back on alcohol consumption if you're a moderate to heavy drinker. You should also avoid sexual behaviors that increase your chances of viral infection — research has found a link between oral cancer and the viral infection caused by the sexually-transmitted human papilloma virus (HPV 16).
Improving your nutrition can also reduce your cancer risk. A diet rich in fresh fruits and vegetables supplies the body with cancer-fighting nutrients, including antioxidants that protect cells from damage caused by carcinogens. Studies have shown this kind of diet consistently lowers the risk of oral and throat cancer, as well as cancers of the esophagus, breast, prostate, lung and colon.
If you would like more information on oral cancer, please contact us or schedule an appointment for a consultation. You can also learn more about this topic by reading the Dear Doctor magazine article "Oral Cancer."
Tags: oral health,&nbsp oral cancer