The Marvelous Mini-Implant: A Small Wonder
posted: Sep. 10, 2014.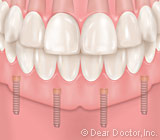 If you are at all uncomfortable at the thought of getting a dental implant, you might be pleasantly surprised to learn the truth about these marvelous state-of-the-art tooth-replacement systems — and the special role of a relatively new device, the mini-implant. So, first, let's go over some basic facts.
What's a dental implant? Basically, it's just a replacement for the root part of the tooth, the part that lies beneath the gum line. It attaches to a crown, which is a replacement for the visible portion of the tooth. But instead of ceramics or metals, implants are made of titanium, which becomes fused to the surrounding bone. When complete, implants are much stronger and longer-lasting than other methods of tooth replacement, like bridgework and dentures.
Implants are presently regarded as the best way to replace missing teeth, with a success rate of over 95%. They also help prevent bone loss in the jaw, a major goal of modern dentistry. Having one put in is an office procedure that's generally accomplished with local anesthesia, and most patients experience only minor discomfort. Standard dental implants can be used to replace a single tooth, or multiple teeth. The mini-implant, which is just a miniature version of the same technology, is now playing an increasing role in many other phases of dentistry.
Why mini-implants? Because in several situations, this smaller and less expensive alternative offers a solution that's just as good — or better — than any other dental treatment. One area where mini-implants excel is in supporting lower jaw overdentures.
Many people find that lower dentures are far more troublesome than upper dentures. The movement of the tongue muscle, and the smaller area of surface contact (compared to the upper denture, which is supported by the palate) often results in a poor, loose fit, which leads to problems when eating or speaking. These problems can be solved by affixing a lower overdenture (an implant-retained denture) with just two mini-implants.
Not only do mini-implants help prevent bone loss, they also give the denture wearer increased stability, comfort, and confidence. And they do so at a price that's more economical than you might think. In some cases, the mini-implants can be placed in a single one-hour office visit, and your own denture can be modified to fit them — so you can go home and eat a steak that night!
Another area where mini-implants are finding increasing use is in orthodontics. Orthodontic appliances (commonly called braces) move teeth by exerting a light force on them, using a wire which is fixed to a solid anchor point. Traditionally, other teeth are used as anchors — but sometimes these teeth move as well! By using immovable mini-implants as the anchor points, the process is greatly simplified. Strategically placed mini-implants called TADS (temporary anchorage devices) can be used to correct both skeletal (jaw) position and dental (tooth) position problems.
Mini-implants may also be used in upper dentures and temporary bridgework.
If you would like more information about mini-implants, please contact us or schedule an appointment for a consultation. You can also learn more about this topic by reading the Dear Doctor magazine articles "Implant Overdentures for the Lower Jaw," "The Great Mini-Implant," and "What are TADS?"
Tags: dental implants