Turn Back the Clock with Whiter Teeth
posted: Nov. 13, 2011.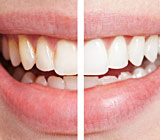 Your smile is one of the first things people notice, but if your pearly whites have lost their luster, chances are you might be hesitant to show them. As we age, our teeth naturally darken, and certain substances can leave teeth stained or discolored, making you appear older. One easy way to turn back the clock is to have your teeth whitened; a safe, painless, and non-invasive way of achieving a young, healthy-looking smile.
Causes of Tooth Discoloration: Exposure to high-levels of fluoride and taking tetracycline antibiotics during childhood can stain the teeth's structure. Smoking cigarettes and using chewing tobacco can also cause tooth discoloration, as well as foods containing tannins such as red wine, coffee and tea. In addition, poor brushing techniques and not flossing regularly cause bacteria to build on teeth resulting in yellow stains.
The Whitening Process: Our office can help you to achieve a brighter smile using either an in-office procedure or an at-home whitening kit. We can help determine the best treatment for your budget, time frame and individual needs. If you choose to have professional whitening done in our office, we will utilize a prescription strength gel sometimes even activated by a concentrated light source. This procedure offers immediate and long-lasting results in less than an hour. After a single treatment, teeth are typically six to ten shades lighter and with proper maintenance, can last five years or longer.
At-Home Results: For those seeking more gradual results, another option is to use custom-fit trays, which our office will make for you to use at home to whiten your teeth. This is generally less expensive, and is very effective at lightening teeth several shades, although it may take a week or longer to see optimal results.
Choosing the Best Procedure: For some people, teeth whitening may not offer adequate results. If you have thin enamel, chipped, uneven or crooked teeth, we may recommend applying porcelain veneers to restore your damaged teeth. Veneers are bonded to the front of teeth to give your smile a straighter, more uniform appearance.
Contact us today to schedule an appointment to discuss any questions you may have regarding teeth whitening. Read more about this topic in the Dear Doctor magazine article "Teeth Whitening: Brighter, Lighter, Whiter."
Tags: cosmetic dentistry,&nbsp teeth whitening