What's Your Crown Made Of?
posted: May 15, 2013.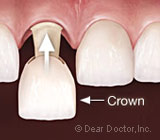 Like the ones worn by kings and queens of old, dental crowns were traditionally made of that most "royal" of metals: solid gold. This style of crown is still going strong after over a hundred years, but recent advances may have stolen some of its luster. Want to learn more about the different materials from which crowns can be made? Read on!
Gold crowns have stood the test of time, and many still consider them the best. Gold is one of the earliest materials to be successfully used for making crowns, and when properly done, it also lasts the longest: over 50 years in some cases. For these and other reasons, many dentists prefer to get gold restorations for their own teeth.
But in recent years, the use of gold crowns has been in decline — especially when the crown is for one of the front teeth. Why? In one word: aesthetics! With the advent of porcelain and porcelain-fused-to-metal (PFM) crowns, many people have opted to go with these more natural-colored tooth restorations.
PFM restorations have been in use for some four decades. They combine the strength of precious metals (gold or platinum) with the appeal of a finish that appears more like a natural tooth. With proper care, a PFM restoration may have a functional life of around 20 years.
With their pearly luster and semi-translucent sheen, all-porcelain crowns have an incredibly lifelike appearance. Porcelain itself is a glass-like material, which is specially modified to add strength when it's used in dentistry. In the past, there were some problems with brittleness in all-porcelain restorations. Today, newer formulations have been designed to avoid these issues.
High-tech materials that have recently become available to dentistry include a polycrystalline ceramic substance called zirconium dioxide or "Zirconia." It shows great promise in terms of aesthetics and strength, and is the subject of much ongoing research. One day, it may replace other materials and become the new "gold standard" of crowns.
Depending on the particular situation, one or more of these materials may be considered for your crown.
If you would like more information about crowns, please contact us or schedule an appointment for a consultation. You can also learn more about this topic by reading the Dear Doctor magazine articles "Porcelain Crowns & Veneers" and "Gold or Porcelain Crowns?"
Tags: crown