Posts for tag: brushing
By Beville Dental Care
June 26, 2013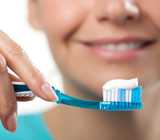 You've probably brushed your teeth every day since early childhood when your parents handed you your first toothbrush. But do you really know if you're doing it effectively and removing disease causing bacterial plaque or biofilm? Let's take a look at the basics of tooth brushing.
What is the goal of brushing and flossing your teeth? While it is true that brushing your teeth freshens your breath and removes stains from the surfaces of your teeth, the principal goal of tooth brushing is to remove dental bacterial plaque. This biofilm grows in the nooks and crannies of your teeth, and especially at the gum line — regardless of what you eat or drink. If left on your teeth, this bacterial film can cause gingivitis (inflammation of your gums). It can progress to periodontal disease, affecting the supporting bone of your teeth and even result in tooth loss. This means that flossing should also be an important part of your daily dental hygiene routine to remove plaque from the protected areas between your teeth.
Can you actually brush too much? More is not always better and can be damaging. We advise you to use a soft brush and to brush gently. It does not take force to remove plaque, and using a toothbrush too vigorously can damage your gums and cause them to recede (shrink away from your teeth), causing sensitivity and tooth wear. It takes between 12 and 24 hours for plaque to form on your teeth, so you don't need to brush more than twice a day and floss once a day.
How do you know when you've done a good job? A good test is that your teeth should feel like you've just had a professional cleaning. Your tongue is a great evaluator — just feel for smoothness at the gum line.
Is a powered toothbrush better than a manual one? An evidence-based study comparing all the research available found little difference between power and manual toothbrushes. The conclusion was that some powered toothbrushes with a rotation-oscillation action achieve a modest reduction in plaque and gingivitis compared to manual toothbrushes. But as we say, "it's not the brush, it's the hand that holds it."
Come to our office for a demonstration. Any brush, whether electric or hand-powered, requires professional demonstration and training so that you know how to remove plaque correctly. Bring your toothbrush with you on your next visit to our office, so we can see your brushing technique and make sure you are doing it correctly for the most efficient plaque removal. And don't be embarrassed — nobody really knows how to brush effectively until they're shown!
Contact us today to schedule an appointment or to discuss your questions about tooth brushing and oral hygiene. You can also learn more by reading the Dear Doctor magazine article "Manual vs Powered Toothbrushes."
By Beville Dental Care
July 31, 2011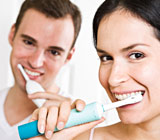 It is important to brush your teeth every day to remove plaque (that sticky white film, composed of bacteria, on your teeth near your gums), but it is possible to overdo it — particularly if you find that your teeth are becoming sensitive to hot and cold or to variations in pressure.
Brushing your teeth too hard or too many times per day can aggravate tooth sensitivity, which can range from a mild twinge to a severe pain. You can accomplish the goal of tooth brushing — plaque removal — by using a soft brush with a very gentle action. Repeated aggressive brushing with a hard brush is not required and can even be harmful to your teeth and gums.
To understand how teeth become sensitive, you need to know about the internal structure of your teeth. Teeth are covered by enamel, a hard mineralized coating that protects them from changes in temperature and pressure. If the enamel is worn away, it exposes the next lower layer of the tooth, the dentin. The dentin is a living tissue containing nerve fibers that connect to the nerves in the tooth's root.
Excessive tooth brushing can irritate your gums and cause them to shrink away from your teeth, particularly if you have thin gum tissues. The thickness or thinness of your gum tissues is something you inherit from your parents, so you can't change it. Hard brushing can begin to wear away the enamel covering of your teeth. Exposure to acids or sugars in the foods you eat and drink can continue the damage.
Acidic foods and drinks such as fruit juices dissolve some of the minerals in your teeth by a process called "demineralization." Fortunately, your saliva can interact with the enamel and bring back minerals that are leaving the tooth's surface. This process is called "remineralization." It is important to let your healthy saliva wash your teeth's surfaces for a while before brushing so that dissolved minerals get a chance to be returned to your enamel. It takes between twelve and twenty-four hours for plaque to form on your teeth, so you don't need to brush more than twice a day.
The best way to make sure you are brushing your teeth properly is to have us evaluate your brushing technique at your next dental appointment. We will be able to tell you whether you need to change the angle of your brush or the pressure you are applying for the most effective removal of plaque with the least wear on your teeth and gums. Tooth brushing serves an important purpose, but remember that you can actually have too much of a good thing.
Contact us today to schedule an appointment to discuss your questions about tooth brushing and oral hygiene. You can also learn more by reading the Dear Doctor magazine article "Sensitive Teeth."