Posts for tag: clear aligners
By Beville Dental Care
July 08, 2013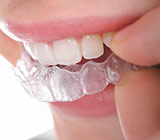 Metal braces are often considered a rite of passage for teenagers whose teeth need straightening. While some teens have no problem with this, others are more self-conscious and would like a less noticeable and less restrictive form of orthodontic treatment ("ortho" – to straighten; "odont" – teeth). After all, traditional braces can sometimes require diet modification, regular tightenings can cause discomfort, and the hardware itself can irritate the inside of the mouth. All of these things can limit a teen's ability to function normally during an already difficult stage of life.
That's why many teens today are opting for removable clear aligners, which have been popular with adults for years. In this system of orthodontic treatment, transparent, flexible, plastic "trays" are custom-made to move an individual's teeth into better alignment in a step-by-step fashion. Each tray moves the teeth a little bit further, according to a precise plan developed with specialized computer software by an orthodontist, or a general dentist who has received special training. It's not available from every dentist, but we are happy to be able to offer it here.
It used to be that clear aligners were not recommended for teens for two main reasons. For one thing, because they are removable rather than attached to the teeth, it was assumed a teenager would not be as conscientious as an adult about wearing them nearly 24 hours a day, which is necessary to achieve the desired results. Now, however, clear aligners for teens have colored "compliance indicators" that fade over time. With this new tool, dentists and parents — and teens themselves — can monitor compliance and progress.
The other main problem in prescribing clear aligners for teens had been that their second molars are still growing into position. This problem, too, has been solved. Clear aligners now have "eruption tabs" that serve as space-holders for teeth that have yet to grow in.
Finally, in recent years, improvements have been made to the whole clear aligner system that allow it to be used for more serious malocclusions (bad bites). So it's actually a viable option for more orthodontic patients in general — teens as well as adults.
If you would like to learn more about clear aligners for your teenager, please contact us or schedule an appointment for a consultation. You can also find out more in the Dear Doctor magazine article "Clear Aligners For Teenagers."
By Beville Dental Care
January 07, 2013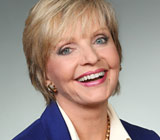 Florence Henderson has inspired generations of people through her portrayal of America's most beloved TV mother, Carol Brady, on one of the longest running situational comedies, The Brady Brunch. Today Florence is still a role model but for a much different audience: senior citizens.
Henderson created the FloH Club as an organization to assist senior citizens with understanding and embracing technology, as she described in an interview with Dear Doctor magazine. "I was inspired to create the FloH Club because of my own fear of technology and because I didn't want to keep asking my children for help," she said.
And while Henderson was blessed with naturally straight teeth and has had no cosmetic work done, she is not opposed to it. "I wouldn't care how old I was, if I had misaligned teeth or felt I needed cosmetic dentistry I would certainly do it!"
One teeth-straightening option many adults consider is clear orthodontic aligners. They are an excellent way for self-conscious adults to align their teeth without feeling that they will appear as an awkward "brace-faced" youth — a look that is commonplace for the teenage years.
But what are clear aligners? They are an alternative system to traditional braces that use a sequence of individual, custom-fitted trays that are clear and removable to gradually straighten teeth. They are usually recommended for correcting mild to moderate spacing problems or crowding of the teeth, and for cases in which there are no major issues with your bite (i.e., your back teeth fit together properly and biting forces are distributed evenly on all of your teeth).
To learn more about this method of aligning teeth, you can continue reading the Dear Doctor magazine article "Clear Orthodontic Aligners." Or you can contact us today to schedule an appointment so that we can conduct a thorough examination and discuss what treatment options will be best for you. And to read the entire interview with Florence Henderson, please see the Dear Doctor article "Florence Henderson."