Posts for tag: crown lengthening
By Beville Dental Care
August 06, 2015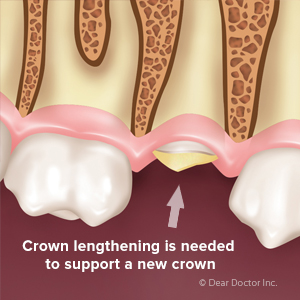 A crown — a life-like "cap" made of dental porcelain that permanently covers an existing tooth — is an effective way to restore a still-viable decayed or broken tooth's appearance. Properly fitting the crown over the tooth requires some healthy tooth structure above the gum line.
But what if the tooth has broken down to the gum line? In this case, we would need to perform a common procedure known as crown lengthening to expose more of the tooth.
Crown lengthening is a minor surgical procedure performed with local anesthesia to numb the tooth, surrounding gum tissues and supporting bone. We first make tiny incisions inside the gum-line on both the cheek and tongue side of the tooth to expose the bone, and then carefully remove a small amount of bone from either side of the tooth; this will expose or "lengthen" the tooth. Once finished, we suture the gum tissue back into place with self-dissolving sutures against the bone and tooth.
Most procedures take only sixty to ninety minutes, and the mild discomfort afterward is usually managed with pain relievers like ibuprofen. While the gum tissues may appear to be healed after a week, we typically wait six to eight weeks to perform the final crown restoration to give the tissues time to fully mature.
Crown lengthening may not work in all situations, especially with a severely fractured tooth. In these cases, we may need to evaluate the long-term viability of the tooth and consider other restorative options. Depending on your bite, it may also be necessary to treat with orthodontics first: not only will the tooth move into a better position, but the treatment may move both the gum and bone down with the tooth. Subsequent crown lengthening will then only affect the intended tooth and not adjacent ones, resulting in a more even smile.
The first step is for us to decide after a thorough examination if you would benefit from crown lengthening. If so, this minor surgical procedure could pave the way for better mouth function and a more attractive smile.
If you would like more information on crown restorations, please contact us or schedule an appointment for a consultation.
By Beville Dental Care
August 15, 2014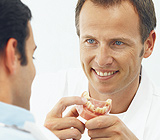 A crown is an effective way to save a tooth and restore its form and function. These life-like "caps" that fit over and are permanently attached to teeth have been used for decades with good results.
For this type of restoration to be effective, though, there must be enough of the natural tooth remaining above the gum line for the crown to "grab on to." This poses a problem if the tooth has broken or decayed too close to the gum tissue.
Fortunately, there is a way to expose more of the remaining tooth for applying a crown. Known as crown lengthening, this surgical procedure is also used for "gummy" smiles, where normal tooth length is obscured by excess gum tissue that makes the teeth appear shorter.
We begin the procedure by first numbing the tooth and gum area with a local anesthetic. We then make tiny incisions inside the gum line on both the tongue and cheek side of the tooth to create a small flap. With this area below the gum line now open to view, we then determine whether we need to remove excess gum tissue or a small amount of bone around the tooth to expose more of the tooth itself. We then position the opened gum tissue against the bone and tooth at the appropriate height to create an aesthetic result.
You shouldn't experience any discomfort during the procedure, which usually takes about sixty minutes for a single tooth area (which needs to involve at least three teeth for proper blending of the tissues). The pressures and vibrations from equipment, as well as any post-procedure discomfort, are similar to what you would encounter with a tooth filling. After the gum tissue has healed (about six to eight weeks), we are then able to fit and attach a crown onto the extended area.
Crown lengthening a small area may result in an uneven appearance if you're dealing within the aesthetic zone. One option in this case is to consider undergoing orthodontic treatment first to correct the potential discrepancy that may result from surgery. After orthodontics, we can perform crown lengthening on just the affected tooth and still achieve an even smile.
Crown lengthening is just one of many tools we have to achieve tooth restorations for difficult situations. Using this technique, we can increase your chances of achieving both renewed tooth function and a more beautiful smile.
If you would like more information on crown lengthening, please contact us or schedule an appointment for a consultation. You can also learn more about this topic by reading the Dear Doctor magazine article "Saving Broken Teeth."