Posts for tag: dental implant
By Beville Dental Care
February 10, 2013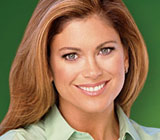 It is not often that you find a celebrity who is willing to speak candidly about any cosmetic or restorative dentistry that he or she has had. Instead, most prefer that their fans just assume that their dazzling "Hollywood" smile is something that just happened naturally. However, that is not the case with Kathy Ireland, the former Sports Illustrated cover girl, current business mogul and founder of kathy ireland Worldwide, a billion dollar marketing and design firm. In a Dear Doctor magazine cover story she talks openly about her dental experiences, injuries and treatment so that people worldwide can understand what may be possible for them.
For Kathy, it happened several years ago when she was playing with her husband and children in their driveway. Kathy decided that she would stand in her children's wagon and surf across their driveway. Instead, she ended up "face-planting," as she describes it, in a freak accident that left her with a broken nose, split forehead and several broken teeth. She recalls that it sounded like a watermelon had smashed. Luckily, her husband, an emergency room physician, was on hand to care for her. Kathy is just as thankful to her cosmetic and restorative dentist who restored her trademark smile with some veneers and a dental implant. Today, the only reminder she has from this accident is a small scar on her nose that she covers with a little makeup.
You would think that this accident would be enough trauma for one person; however, Kathy describes an earlier accident where she knocked out a tooth and then later knocked it loose again. Kathy also wanted to take the time to let readers know that her dental implant experiences were "pretty easy." She did recall, "hearing all the sounds while all of it was going on" and then added, "but I have to tell you, that after being a mom and having kids, going to the dentist...is like going to the spa!" She said that she has even fallen asleep in the dental chair.
To learn more about Kathy Ireland, continue reading the Dear Doctor magazine article "Kathy Ireland." Or if you think cosmetic or restorative dentistry is right for you, contact us today to schedule an appointment to discuss your specific goals.
By Beville Dental Care
December 04, 2011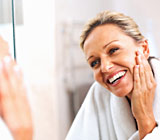 Dental implants are replacements for missing teeth. They are very stable and can be made to look as good as or better than the teeth they replace. How do we do it? Here are seven frequently asked questions.
What are the parts of a dental implant?
The implant consists of a root, usually made of a titanium alloy, which extends below the gum tissue into the bone; and a crown, which emerges from the gum and resembles the crown of the original tooth.
Why is a dental implant so stable?
Titanium has a property of fusing with the bone of the jaw, so that it actually becomes part of the bony structure. The new implant's stability depends on having the needed volume of bone and gum tissue in the right position to anchor the implant.
How can you make sure I have enough bone?
When a tooth is lost, the bone in which it was anchored will resorb or melt away if care is not taken. It is important to minimize trauma during tooth removal to preserve bone tissue. If tissue has been lost it can be built up by bone grafting techniques.
What factors make a crown on an implant look real?
How real the crown looks depends on its shape, particularly as it emerges through the gum tissues, its color and its position relative to the teeth around it.
What is the emergence profile?
This term refers to the way the crown emerges through the gum tissue. It involves both the shape of the implant and how far it is placed into the gum and bone tissues.
How do you match the color of the crown?
We analyze your tooth color using shade guides and/or photography to provide the dental lab with as much information as possible to create the best color match. This is part of the artistry of reconstructive dentistry.
How will my gums look with my dental implant in place?
When people use the word "gums" they are often referring to the small pink triangles of tissue that fill in the spaces between teeth, called "papillae." An implant must be placed at the correct distance from adjacent teeth and at the correct depth below the gum tissue for natural looking papillae to form.
You can see that success in matching of color, shape, and location of an implant is not simple and depends on the skill, artistry, and experience of your dental team.
Contact us today to schedule an appointment to discuss your questions about dental implants. You can also learn more by reading the Dear Doctor magazine article "Matching Teeth & Dental Implants."
By Beville Dental Care
September 04, 2011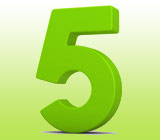 Lost teeth can cause a host of problems, including a loss of your jaw bone and a collapsing appearance of your face, along with difficulty chewing and speaking.
Clearly, it is important to replace missing teeth as soon as possible. Options for replacement include the more traditional methods and the newest technique — dental implants. We believe that implants are your best choice for the following reasons.
Implants prevent bone loss.

Dental implants are substitute tooth roots. Like the roots of your original teeth, they stabilize the bone into which they extend — but in a different way.

The part of the bone that encases the teeth is called alveolar bone, from the word root meaning "sac." This bone has a special relationship with the teeth it surrounds. It develops as they first erupt into the mouth. If they are lost, the alveolar bone goes, too. It resorbs, or melts away, giving an impression that the bone, gums, and sometimes the lips are collapsing.

Implants are made of titanium, which has the ability to join biochemically to bone. It takes the place of the original tooth root and prevents resorption.

Implants support adjacent teeth.

Your teeth work in harmony, an all for one, one for all relationship with each other. If one is missing, the remaining teeth will slowly move and shift causing them to receive forces that may not be well received. Losing any tooth increases the pressure on the remaining teeth. Losing a back (posterior) tooth can put pressure on the front teeth and they can be forced out of position. All these movements can change a person's appearance as well as in their ability to speak, bite and chew.

They are easier to clean than "traditional" options.

Fixed bridges are non-removable tooth replacements that attach to adjacent natural teeth. These teeth that are adjacent to the missing tooth have to be cut into small peg shapes on which the bridge is attached. The removal of their enamel may make them more prone to tooth decay and gum disease.

Older replacement methods include removable options such as plastic "flippers" and partial dentures. These replacements rest on the teeth and gums, making the teeth they attach to receive greater pressure causing more mobility. In addition, they exert pressure on the gums, causing additional bone loss and increasing the potential for bone loss on the neighboring teeth.

Full dentures, in cases where all teeth are missing, are kept in place by pressing on the gum tissues. This causes even more pressure on the bone, leading to bone loss and changing facial structures.

They are longer lasting.

Studies have shown that removable partial dentures are replaced about every five years; bridges are only 67% successful at 15 years; and implants are over 95% successful for 20 or more years.

They are cost effective in the long term.

Because implants last longer than other alternative tooth replacements, they may seem more expensive at first; but they will be cost effective over the long term.
Contact us today to schedule an appointment to discuss your questions about dental implants. You can also learn more by reading the Dear Doctor magazine article "Dental Implants. Evaluating Your Options."