Posts for tag: missing teeth
By Beville Dental Care
March 22, 2016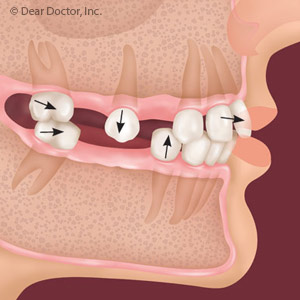 Your front teeth are the stars of your smile — so it makes perfect sense to replace them if they're missing. But is it really necessary to replace a largely unseen back tooth with an implant or bridgework?
The answer is an unequivocal yes. Your individual teeth are an interactive part of a dynamic mechanism that enables you to eat, speak and smile. They're highly adaptable and can move incrementally to accommodate mouth changes — especially when one of them is lost.
Back teeth not only help us chew food efficiently, they also ease some of the pressure from front teeth as we chew. Our efficiency while chewing suffers when they're missing; other teeth will wear faster and tend to move out of position, "drifting" into the space left by the missing tooth. And without their stimulation during chewing, new bone may grow at a slower rate to replace older bone, reducing bone volume over time.
So, whether visible or not, replacing a back tooth is the best course to take to prevent these adverse consequences. Your two best options are fixed bridgework or dental implants, each with their own advantages and disadvantages.
Bridgework has been the traditional method for replacing one or a few missing teeth: they're long-lasting if cared for properly, have a life-like appearance that blends well with other teeth and are a good option when implants aren't. But they require extensive altering of the anchor teeth (those used on either side of the bridge to secure it) and they're highly prone for trapping food between them and the gums, increasing the risk of disease.
Dental implants are easily maintained and their installation doesn't affect adjacent teeth as with a bridge. They're also durable with a 95% success rate after ten years. On the other hand, the installation process can take several months and visits, and they require a certain amount of bone mass for proper placement and so aren't ideal for certain patients.
Regardless of its location, if you have a missing tooth or one that may need to be removed, you should visit us for a complete examination. From there we can tell you how your mouth has been impacted by the missing tooth and which replacement option is best for you.
If you would like more information on tooth replacement options, please contact us or schedule an appointment for a consultation. You can also learn more about this topic by reading the Dear Doctor magazine article "Replacing Back Teeth."
By Beville Dental Care
February 03, 2013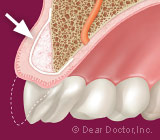 Dentists often recommend bone grafting to ensure the success of dental implants. And it is likewise common for people to squirm a bit at the thought. Bone graft? That sounds serious. And maybe a bit, well, unappealing. These feelings are completely understandable. After all, this may be something you've never had to consider before. But there's no reason to worry. Here's why:
Bone grafting is not new or experimental. It is actually a very routine part of the implant process, as well as other types of oral and periodontal surgery. And it is very successful when performed by an experienced doctor.
Bone grafting materials are processed for safety. The grafts used — whether synthetic or from a natural source, such as cow or human bone — have been specially treated for medical use.
Only a small amount of this bone-grafting material is needed. Once placed in the site of the missing tooth, it serves as a helpful scaffold your body uses to build more of its own bone in that spot.
Your implant will be more ideally positioned and may work better. It needs a good, strong foundation with which to fuse. But when teeth are lost, this supporting bone is often lost, too. This loss is often unpredictable and bone grafting limits the change that occurs. In fact that's one of the main benefits of replacing missing teeth with implants: they help prevent bone loss just as a natural tooth does.
Your implant will look so much better! Think about it: Your original tooth was supported to a certain height by the underlying bone. If that bone is now gone, the replacement tooth is going to be much longer because of the missing bone height. It may not look quite right without that additional support.
So if you want the best-looking and best-functioning implant possible, have no fear of bone grafting. And please contact us to discuss any of your concerns, or schedule an appointment for an implant consultation.
You can read more about this topic in the Dear Doctor magazine article "Can Dentists Rebuild Bone?"