Posts for tag: mouthguards
By Beville Dental Care
February 16, 2012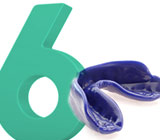 When involved in high impact sports or vigorous activities, it is important to protect your mouth and teeth. This statement is backed by the fact that there are over 600,000 sports-related dental injuries treated in emergency rooms across the US each year according to the US Centers for Disease Control (CDC).
In addition to absorbing and distributing the forces that impact the mouth, teeth, face and jaws an athlete receives while participating in sports such as baseball, football, basketball, hockey (ice and field), skateboarding and wrestling, the American Dental Association (ADA), also recommends the use of custom mouthguards for other activities such as acrobatics, bicycling, handball, racquetball, skiing, and even weightlifting.
These facts make two things clear: (1) it is vital that you obtain a professionally made mouthguard that you wear during these types of activities and (2) that you also understand how this mouthguard protects you. Below are just a few ways.
Lacerations. A custom-fit, professionally made mouthguard covers the sharp surfaces of the teeth to protect the soft tissues of the cheeks, lips, gums and tongue from lacerations that can occur from a blow or sudden jolt.
Mouth Impact. Just as a mouthguard protects against soft tissue lacerations, it can also help prevent injuries to the jaws and teeth. This includes but is not limited to chipped teeth, fractured teeth, broken teeth and teeth that are partially or fully knocked out of their natural position.
TMJ (jaw joint) Trauma. Wearing a properly fitted mouthguard can reduce the potential for jaw displacement and joint fractures by cushioning the jaws against damage from an impact.
Direct Jaw Impact. Anytime a person receives a direct impact to his/her jaw, having a mouthguard in place may help prevent more serious injuries to teeth and jaws. This is especially important for anyone diagnosed with TMJ.
Jaw Fracture. A custom-fit, professionally made mouthguard both absorbs and distributes impact forces so that jaws are protected. And it is this reduction in force that can help prevent the jaws from fractures.
Under Chin Impact. Receiving a blow under the chin can obviously damage teeth; however, it can also cause damage to the jaws as well as inflame or cause TMJ issues.
You can learn more about mouthguards by continuing to read the Dear Doctor magazine article "Athletic Mouthguards." Or you can contact us today to schedule an appointment.
By Beville Dental Care
January 03, 2012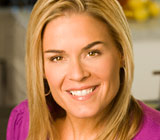 Cat Cora, philanthropist, author, chef, restaurateur and the first female chef on the Food Network's hit series Iron Chef America is a dynamo driven by a desire to change people's lives for the better. And she is no different when it comes to tackling her most challenging role: caring for the needs of her four active young sons. This includes monitoring the food they eat, their oral hygiene habits and protecting their teeth from injuries.
During an interview with Dear Doctor magazine, Cat describes a backyard accident in which one of her boys, Zoran, was accidentally knocked in the mouth by another child while jumping on the family's trampoline. While her son was not seriously injured, it did cause her to take proactive steps to avoid future injuries. She had her dentist make a custom-fitted mouthguard to protect his newly erupted adult teeth. He now wears the mouthguard while on the trampoline and when playing soccer.
If you and/or your children routinely participate in contact sports — boxing, football, hockey, lacrosse, soccer, water polo, rugby and basketball, for example — or other forms of vigorous physical activity, you too should consider getting a professionally made mouthguard. A properly fitted mouthguard can help prevent injuries to the jaws, lips and teeth. And unlike those cumbersome "boil and bite" mouthguards you can purchase at a drugstore, the ones we make will stay in place, making it easier for you to breathe and talk.
If you are still not convinced, consider these facts: According to the American Dental Association, an athlete is 60 times more likely to suffer harm to the teeth when not wearing a mouthguard. And the US Centers for Disease Control reports that sports-related dental injuries account for more than 600,000 visits to the emergency room each year. Furthermore, people who do not have a knocked out tooth properly reserved or replanted may face a lifetime cost of $10,000 to $20,000 per tooth, according to the National Youth Sports Foundation for Safety.
To learn more about mouthguards, continue reading the Dear Doctor magazine article "Mouthguards." Or if you are interested in obtaining a mouthguard for yourself and/or your child, contact us today to schedule an appointment. And to read the entire interview with Cat Cora, please see the article "Cat Cora."
By Beville Dental Care
August 14, 2011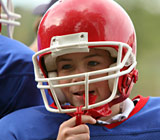 One question we are most often asked by parents of athletes or those who participate in physical sports is, "Do mouthguards really work?" And when we respond, "yes," a common follow-up question is, "Is there any scientific evidence to support this claim?" Based on this scenario, we feel it is important to provide you with some interesting and evidence-based facts on this topic.
The first reported use of mouthguards was in the sport of boxing. And because participants and bystanders in the 1920s quickly witnessed their effectiveness even back then, the trend's popularity grew to the point that boxing became the first professional sport to require them. However, other sports soon started following this lead — especially those high-contact sports. The American Dental Association (ADA) started mandating the use of mouthguards for football in 1962 and the US National Collegiate Athletic Association (NCAA) currently requires mouthguards for football, ice hockey, lacrosse and field hockey. The ADA has since expanded their recommendations to now include 29 different sports and exercise activities. So now that you know more about the professional organizations pushing the use of mouthguards, let's get back to the second question, "What's the evidence?"
There have been numerous studies over the years regarding the properties of mouthguards, and more specifically their shock absorbing capabilities. Other studies have been based upon their protective abilities due to their stiffness, hardness and strength. This research has enabled us to vastly improve upon the effectiveness of mouthguards. For example, years ago latex rubber was a popular material used to create mouthguards. However, today we use products such as ethylene vinyl acetate or polyurethane because they are far superior in durability and flexibility. And impact studies have shown that the chances of fracturing teeth is dramatically reduced when wearing one of these mouthguards...especially when compared to individuals wearing no mouthguard at all. In fact, research has revealed that by not wearing a mouthguard during physical sports or exercise, individuals are 60 times more likely to experience an injury to the mouth and/or teeth.
To learn more about the importance of protective mouthguards, continue reading the Dear Doctor magazine article "Athletic Mouthguards." Or you can contact us today to schedule an appointment to discuss your questions about mouthguards.