Posts for tag: periodontal (gum) disease
By Beville Dental Care
December 29, 2012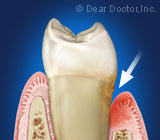 If you see blood when you brush or floss your teeth, it generally indicates a problem with your oral health. You may think you are brushing too hard, but this is not usually why gums bleed. The usual culprit is dental plaque.
Plaque is the sticky, whitish film of bacteria that forms on your teeth every day. If you brush regularly, you probably remove most of it — but some may remain behind and accumulate where your teeth meet your gums, particularly between your teeth. As the bacteria build up, along with by-products of their metabolism (the chemical reactions that maintain their lives), they cause inflammation, called gingivitis, in the adjacent gums.
Bleeding gums are an early symptom of gingivitis. Continuing contact with plaque at the gum line can cause your gum tissue to separate from nearby teeth, creating pockets in which the inflammation becomes even worse. The process leads to periodontal disease ("peri" – meaning around, "odont" – tooth). The increasing infection can eat away the bone that anchors the teeth, leading to possible tooth loss. Periodontal disease is not an uncommon problem. About 90% of the population has bleeding gums at some time or another, and approximately 10% go on to develop periodontal disease.
When you lose bone around your teeth, the gums separate from the tooth and "pockets" form between your teeth and gums. The inflammation and infection may continue within the pockets even if your gums have stopped bleeding when you brush. That's why it is important to have regular dental exams — to check up on and stop periodontal disease before it has a chance to cause serious damage.
There may also be other reasons for bleeding gums that have to do with your general state of health. Women who have elevated levels of hormones caused by birth control pills or pregnancy may experience an increased response to plaque that makes their gums bleed more easily. Increased bleeding in your gums can also be caused by some diseases or as a side effect of some medications.
The most important way to prevent bleeding gums is to learn proper brushing and flossing techniques so that you effectively remove plaque from your teeth on a daily basis. If you are not sure you are using the right techniques, make an appointment and have us demonstrate at your next dental visit.
With all the best intentions, some plaque may remain. Plaque that is allowed to stay on your teeth hardens into a substance called tartar or calculus. This must be removed periodically with a professional cleaning by me or by our hygienist.
With not too much effort, you can ensure that your teeth are clean and plaque free, and your healthy gums no longer bleed.
Contact us today to schedule an appointment to discuss your questions about bleeding gums. You can also learn more by reading the Dear Doctor magazine article "Bleeding Gums."
By Beville Dental Care
June 05, 2011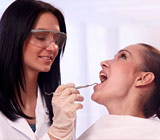 Gum or periodontal disease is a condition in which "biofilms" or dental bacterial plaque sticks to teeth around the gum line in the absence of good oral hygiene. If left untreated, it causes inflammation of the gums and surrounding tissues of the teeth that can result in "pocketing," gum recession and bone loss that eventually leads to loose teeth, followed by no teeth! And for about 10 to 15% of those having gingivitis or stage 1 periodontal disease, it can get worse by progressing into chronic periodontal disease. However, the good news is that a conservative and simple treatment called root planing combined with good daily oral hygiene may return your gum tissues to health, and even eliminate the need for gum surgery.
Most of the time, root planing is performed with local anesthesia (numbing shots) in the areas requiring treatment. Anesthesia is an important part because you should always feel relaxed and comfortable during treatment. Because inflamed gum tissues may be quite sensitive, these numbing shots enable us to accomplish our goals and thoroughly remove the problematic material from your teeth's roots.
Root planing or deep cleaning is a routine dental procedure usually done in conjunction with scaling, the removal of the more superficial deposits on the tooth surfaces. Root planing involves physically planing (scraping) the root surfaces of the teeth to remove calculus, bacteria and toxins that are ingrained into their surfaces so that the attached gum tissues can heal. It is carried out with manual hand instruments, ultrasonic electronic instruments or a combination of both for your comfort and best results.
You can learn more about this procedure by reading, "Root Planing." Or if you want to schedule an appointment to discuss your questions, contact us today.
By Beville Dental Care
May 22, 2011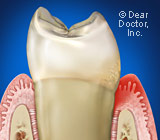 Periodontal or gum disease is an often silent disease that can cause significant damage to the health of your teeth and body. The reason it is so often classified as a silent disease is because it is chronic or longstanding and often without any symptoms or pain that most people associate with a disease until it may be too late.
If you think you may have gum disease, here is what to look for:
Bleeding gums — probably one of the most common and overlooked early warning signs that most people ignore is thinking that the bleeding is being caused by brushing their teeth too hard. The truth is that you would have to brush extremely hard to cause healthy gum tissues to bleed.
Bad breath — something everyone has experienced; however, it can also be a warning sign of periodontal disease. This is especially true for people who hate or refuse to floss their teeth, thereby trapping literally billions of bacteria where they love to collect in the protected areas between the teeth.
Redness, swelling, and/or receding gums — all signs of gum disease often accompanied by sensitivity of the gum tissues around the teeth.
Chronic inflammation — long-standing gum inflammation is a sign that your gum tissues are not healing properly. Periodontal disease exhibits periods with bursts of activity followed by periods where the body tries to recover.
Loose and/or moving teeth — that seem to be drifting into a new position, are visible signs that you are highly likely to have periodontal disease.
Abscess formation — late stage gum disease is characterized by painful, swollen, red pockets of pus, which denotes an acute localized periodontal infection.
If you have any of these signs, you need to make an appointment for a thorough evaluation. Otherwise, you could end up losing your teeth to the second most common disease known to man after tooth decay. To learn more about gum disease, continue reading, "Warning Signs of Periodontal (Gum) Disease." Or, contact us today to schedule an appointment.