Posts for tag: tooth pain
By Beville Dental Care
January 28, 2014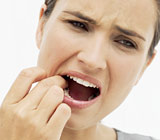 Don't ignore tooth pain hoping it goes away. No matter how mild or fleeting it may be, it's a sign that something's wrong. Healthy teeth shouldn't cause discomfort because the parts containing the nerves — the interior pulp and the dentin around it — are shielded by dental enamel and gums.
Here are some common reasons that teeth ache:
Gum Recession. Over time, gums can recede. Improper or excessive brushing can affect them, especially if you are genetically predisposed by having thin gums. When gums retreat, dentin can, or eventually will, be exposed. Besides its susceptibility to sensation, dentin is also more vulnerable to erosion and decay than enamel.
Tooth Erosion/Decay. When acid-producing oral bacteria get the upper hand, they can eat through the tooth's protective enamel to the dentin. You may start feeling sensitivity as the decay gets deeper and closer to the pulp (nerves). Only removal of the decay and filling the cavity can stop the process.
Old/Loose/Lost Filling. Fillings seal off areas of past decay. If they don't fit right or are dislodged altogether, air or food particles can slip inside and irritate exposed nerve endings. A crevice to hide in makes it prime real estate again for bacteria, too.
Cracked Tooth. Teeth grinding and jaw clenching can have a similar impact on teeth that a miner's pick has on rock. At first thin lines in your enamel can develop, then cracks develop that may expose the dentin, and finally the tooth might fracture, exposing the pulp. The earlier this process is caught, the better.
Pulp Tissue Infection/Inflammation. This can be caused by deep decay or trauma and suggests your tooth may be in its death throes. Sometimes the pulp infection travels into the surrounding periodontal (peri – around; odont – tooth) tissues and causes an abscess to develop. This absolutely requires immediate attention.
Residual Sensitivity from Dental Work. Removal of decay before placing a filling can cause tooth sensitivity. It can take 1-4 weeks or so to improve.
Sinus Pain. Congestion can cause "referred" pain in the upper teeth. When the congestion subsides, the pain should, too.
As you can see, it's risky to discount tooth pain and "wait 'til it goes away." Our office can help you determine the origin of your pain and the best course of action to resolve it. When in doubt, it's always better to err on the side of caution!
If you would like more information about tooth pain and ways to prevent or treat it, please contact us or schedule an appointment for a consultation. You can also learn more about this topic by reading the Dear Doctor magazine articles "Tooth Pain? Don't Wait!" and "Sensitive Teeth."
By Beville Dental Care
December 19, 2012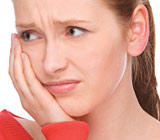 Tooth pain occurs when a trauma or infection triggers a reaction from the nerves inside a tooth's pulp chamber. The severity of the pain and its duration can vary depending on the underlying cause, which can include anything from a loose filling to an abscess. Ignoring symptoms not only results in unnecessary physical and emotional pain, but can also lead to more expensive dental treatment as problems become more complex. Make an appointment with our office today if you are experiencing any of the following symptoms:
Sharp pain when biting down on food — This type of pain could be indicative of a cracked tooth, loose filling, or tooth decay that is affecting one or more of your teeth. We can remove decay and replace a loose filling, but if your tooth is cracked, we will have to determine the location and depth of the crack before formulating a treatment plan. In some cases, root canal treatment or even extraction may be necessary.
Pain that lingers after eating hot or cold foods or liquids — Mild and short-term sensitivity (lasting only seconds or a minute) to hot and cold foods resulting from gum recession can often be soothed by using a fluoride toothpaste made for sensitive teeth. However, an inflamed tooth pulp or one that is dying due to severe decay could cause sensitivity that lingers for a long time after exposure. In this case, root canal treatment may be necessary to remove dying pulp tissue in order to save the tooth.
Constant severe pain and pressure, swelling of the gums, and sensitivity to touch — Infections and/or abscesses can spread from the tooth pulp into the surrounding periodontal tissues and bone causing this type of pain. Root canal treatment will most likely be required.
Dull ache and pressure on one or both sides of the face in the upper teeth region — The sinuses and upper back teeth share the same nerves, so, oftentimes, referred pain from sinus congestion or infection can feel like a toothache. A thorough examination can determine whether or not the pain is dentally related.
If you are experiencing tooth pain, call our office immediately so that we can begin to provide you with some relief. To read about other symptoms of tooth pain and possible treatment options, read the Dear Doctor magazine article "Tooth Pain? Don't Wait!"