Dentist in South Daytona, FL
All our professionals at Beville Dental Care maintain the highest levels of accreditation and pursue ongoing education to stay abreast of the latest trends in dentistry.
---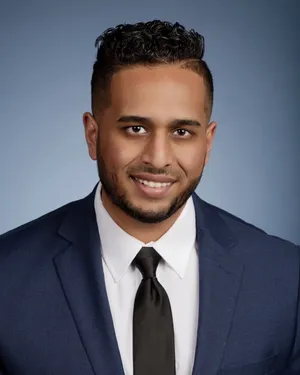 Dr. Nitish Mathew
HOMETOWN:
EDUCATION:
Florida International University, 2015
Bachelor's in Interdisciplinary Studies
Lake Erie School of Dental Medicine, 2020
Doctorate of Dental Medicine
License #: DN25293
Memberships:
American Dental Association
Florida Dental Association
Languages:
Dr. Nitish Mathew was born and raised in South Florida. He attended Florida International University and graduated with his Bachelor's in Interdisciplinary Studies in 2015. Shortly after, Dr. Mathew attended Lake Erie School of Dental Medicine and received his Doctorate of Dental Medicine in 2020.
Dr. Mathew has a wide focus in General Dentistry with experience in treating children and adults of all ages. As a child, Dr. Mathew feared the dentist growing up and wanted to help others get rid of their fears when visiting the Dentist. Dr. Mathew is also member of the American Dental Association and the Florida Dental Association. He appreciates the importance of new technology in dentistry and in providing the optimal diagnosis and treatment of every patient's dental needs.
Dr. Mathew's goal is to offer the highest quality of dental care in a relaxed, comfortable environment and to help fearful patients feel at ease. Outside of dentistry, Dr. Mathew enjoys playing basketball, watching tv shows with his wife, and LOVES to eat!
---

Dental Hygienist, Jennifer, R.D.H
HOMETOWN:
Kansas City, Missouri
EDUCATION:
University of Florida
Local Anesthesia Certification - 2013
University of Missouri
BS Degree, Dental Hygiene - 2001
Lic# DH16290
Jennifer Miller is a licensed dental hygenist with 29 years of experience in dentistry. She is an alumni of the University of Missouri-Kansas City School of Dentistry, where she received her Bachelor of Science in Dental Hygiene in 2001. Her educational experiences at UMKC allowed her to work closely with all of the dental departments including Oncology, Public Health, Pathology, Periodontics, and Pediatrics. She won 1st place for her table clinic presentation on the newly FDA approved drug Arestin, which is used in conjuction with periodontal therapy.
Born and raised in Kansas City, Jennifer's dental career began working for a periodontal office in Overland Park, Kansas. The experiences she encountered while working there included assisting with periodontal surgery, implant placements, and occlusal disease treatments. She also assisted the hygienists in the office in obtaining extensive medical histories, taking radiographs, and impressions for study models.
After graduation, Jennifer's career took her from Kansas City to Daytona Beach where she began practicing as a Hygienist in General Dentistry and a Periodontal Speciality practice. In 2013 she received her Local Anesthesia license from the University of Florida. This license has allowed her to offer more pain control options to her paitents. She is CPR/BLS certified. Other areas of training include Invisalign, risk management, and cavity control through Fluoride Therapy.
Jennifer's background in oral hygiene affords her expertise in formulating products and instructions to improve her patients oral health. She can formulate an oral health regimen, working in conjunction with Dr. Patel, to provide patients with optimal care for problems such as gingivitis, periodontitis, sensitivity, caries prevention and restorative needs, to name a few.
---
Business Office, Tracy
Bio and Photo coming soon....
---
Business Office, Pam
HOMETOWN:
EDUCATION:
Graduated St. Thomas Aquinas High School, 1972
CERTIFICATIONS:
Pam has been in dentistry for 35 years. She worked as an Oral surgery assistant in Maryland for over 20 years. Along her dental career, she also managed a dental practice many years ago but her true passion remains working with the front office team in the business office. That is where she shines the most & patients just love her spirit. As Patient Team Coordinator Pam loves assisting patients in obtaining a healthy smile. The best part of her day is seeing patient's leave our office feeling confident and happy with their smile. She loves every aspect of dentistry and continues to grow and learn through each patient experience. Her goal is to provide a warm welcome to each patient she greets.
Pam moved to Florida 7 years ago to be close to her parents to help them. Her proudest accomplishment are her 4 children and 7 grandchildren that live in NC and VA. Her interests are the beach, boating and any outdoor activities! Pam also loves her home town of New Smyrna Beach and all the family owned businesses.
---
Dental Assistant, Samantha
HOMETOWN:
Henderson, North Carolina
EDUCATION:
Graduated from High School
Invisaligh Technology
Cerec Training
CERTIFICATIONS:
Radiology Certified, CPR Certified
Samantha moved from North Carolina in March of 2015 to Orlando Florida. Sam's dental journey began through the influence of a family friend who convinced her to work for a successful dental practice as a sterilzation tech. Over the last 5 years she was taught hands on dental assisting and overtime mastered her skill set through assisting the dentists. Samantha joined the Beville Dental Care team in June of 2019 & has taken the roll of our Lead Dental Assistant.
In September of 2019 Samantha married her best friend and became a step mom to 4 amazing children she loves as if they were her own. Sam has a dog and 5 cats. In her spare time she loves spending time with her family, going to the beach or springs or just being outdoors with the ones she loves. She also enjoys crafting. Samantha aspires to continue her career in dental assisting and further her education. Her goal is to be the best dental assistant she can be with kindness and compassion.
---
Dental Assistant, Nanette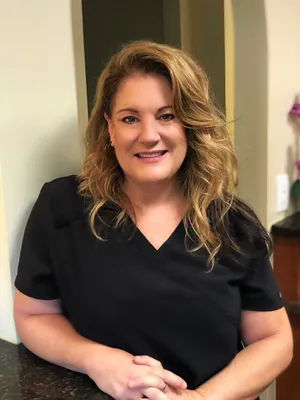 HOMETOWN:
EDUCATION:
Graduated from Dental Assisting School - 1992
Sedation Denistry Training
Cerec Training
CERTIFICATIONS:
Radiology Certified, CPR Certified
Nanette is a Native to Florida. She was born in raised in Lake Mary, Florida. Nanette's love for dentistry began after she graduated from Dental Assisting School in 1992. Over the years she had the pleasure of attending many dental conferences with the FNDC in Orlando Florida. Nanette joined the Beville Dental Team in 2020 and continues persuing her passion for helping patients to ensure they feel comfortable in our practice. Nanette takes pride in her job and enjoys helping patients and overall enjoys helping people. She hopes that when patients are here in our office its a positive experience.
Nanette has 4 wonderful children. Today she is a proud grandmother of 6 grandbabies. In her spare time she enjoys spending time with her family and spending time with her new puppy/dog "Wiskey" who keeps her very busy. She enjoys singing, reading and bike riding.
---