Posts for: July, 2014
By Beville Dental Care
July 23, 2014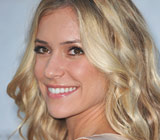 Kristin Cavallari's flawless smile has been featured on TV, film and magazine covers. But the 25-year-old actress and reality-show personality didn't always have a perfect set of teeth. In fact, she told Dear Doctor magazine — where readers recently voted to crown her with the "Smile of the Year" award — that her dental treatments began the same way many do: with orthodontics in sixth grade.
"I had the 'spaghetti catcher,' which is what everyone used to call it," she reminisced. But by that, she didn't mean a strainer — she's talking about what dentists call a "palatal expander."
In case you're not familiar with this orthodontic device, a palatal expander takes advantage of the natural growth patterns of a child's upper jaw to create additional space for the top set of teeth. How does it work? Basically, it's similar to braces: By applying gentle pressure, the appliance creates changes in the jaw. Unlike braces, however, it's invisible — it fits between the upper teeth, close to the roof of the mouth.
During the three to six months a child wears the palatal expander, it pushes the left and right halves of the upper jawbone apart, and then maintains and stabilizes the new, wider spacing. Since the palatal bones don't fuse until after puberty, tightening it a little bit each day for the first few weeks provides a quick and painless method of making the upper jaw a bit roomier. And that can be a very good thing. Why?
There are lots of reasons. For one, it can relieve the condition called "crowding," when there is not enough space in the upper jaw to accommodate the proper alignment of the permanent teeth. In the past, teeth often had to be extracted in that situation. It may even allow "impacted" teeth — ones which are blocked from erupting by other teeth — to come in normally.
It can help treat a "crossbite," when the back top teeth come down to bite inside (instead of outside) the lower back teeth. It also generally shortens the total time a child needs for orthodontic treatment. That's good news for any teenager — even if their own day-to-day "reality show" isn't featured on TV!
If you would like more information about palatal expanders, please contact us or schedule an appointment for a consultation. You can also learn more by reading the Dear Doctor magazine article "Palatal Expanders" and "Early Orthodontic Evaluation."
By Beville Dental Care
July 15, 2014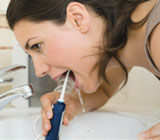 The main strategy in fighting dental disease is to try to prevent it in the first place. The success of this strategy depends largely on effective oral hygiene with three essential elements: daily brushing, daily flossing, and semi-annual checkups with professional cleaning.
Many people have little trouble incorporating brushing into their daily routine; flossing, though, is a different matter for some. They may feel it's too time-consuming or too hard to perform. Patients with orthodontic appliances especially may encounter difficulty navigating the floss around the appliance hardware.
Flossing, though, is extremely important for removing bacterial plaque, the primary aim of oral hygiene. This thin film of food remnant that builds up and sticks to the teeth is the breeding ground for bacteria that cause both tooth decay and periodontal (gum) disease. It's important that as much plaque as possible is removed from the teeth and gum surfaces every day. While brushing removes plaque from the open surfaces of the teeth, flossing removes plaque clinging between teeth and around the gums that can't be accessed with a toothbrush.
If traditional flossing is too difficult, there's a viable alternative using an oral irrigator. Also known as a water flosser, an oral irrigator directs a stream of pressurized, pulsating water inside the mouth to blast away plaque in these hard to reach places. The hand applicator comes with a variety of tips that can be used for a number of dental situations, such as cleaning around braces or implants. In home use since the early 1960s, the latest versions of oral irrigators have proven to be very effective, especially for orthodontic patients — research shows an oral irrigator used in conjunction with brushing can remove up to five times more plaque than just brushing alone.
That being said, traditional flossing is also effective at plaque removal when performed properly. Sometimes, resistance to flossing can be remedied with a little training during dental checkups. We can work with you on techniques to improve your flossing activity, as well as train you to use an oral irrigator.
Whichever method you choose, it's important for you to incorporate flossing (or irrigation) into your daily routine. Removing plaque, especially in those hard to reach places, is essential for reducing your risk of developing destructive dental disease.
If you would like more information on flossing or oral irrigation, please contact us or schedule an appointment for a consultation. You can also learn more about this topic by reading the Dear Doctor magazine article "Cleaning Between Your Teeth."